To design and develop a community website that serves both the local community as well as attracting new visitors to the city wasn't an easy task. With so many stakeholders it can be difficult to please absolutely everyone.
We saw similarities between the requirements for Discover Ripon and the work currently being undertaken by the team at gov.uk. Yet their focus on content and usability leaves little room for aesthetic beauty; something we needed to cover to present the city of Ripon as a tourist destination.
In this respect we also needed to look at tourism websites such as Enjoy England whose goal is to advertise England and its various attractions to potential visitors. The Discover Ripon website would need to be an amalgamation of these two types of website so that it would serve the needs of anyone with an interest in the city.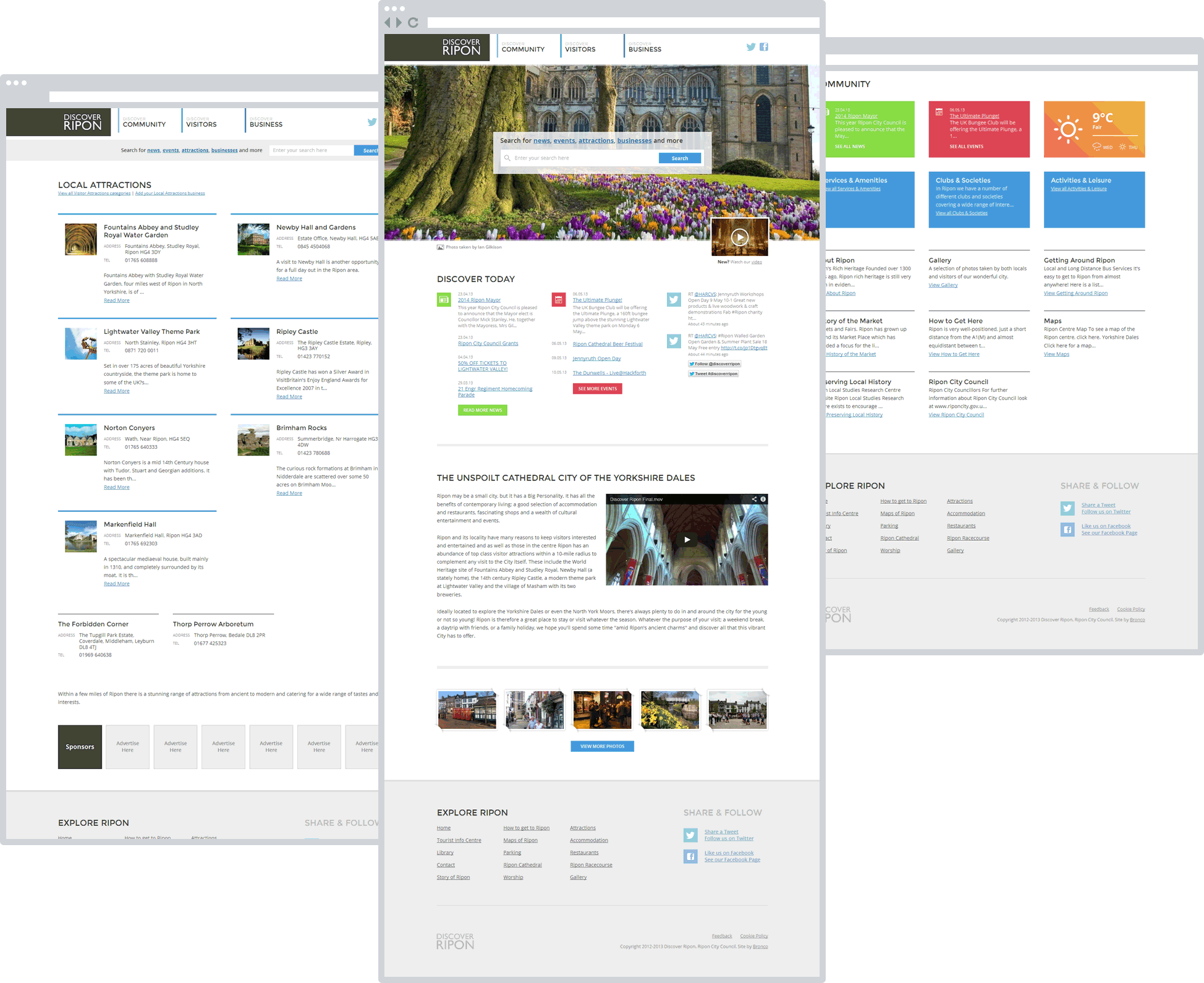 Community & Visitors
We identified early that the majority of people coming to the website would fall within one of these groups and that their requirements of the website, though having some overlap, would also be very different.
While the homepage would serve as an introduction, the top level of navigation and allow the display of time based information (news, events, tweets) we could focus sub-pages into providing information tailored to these different types of user.
With businesses such a large section and likely to be used by both the community and visitors this section sits apart. The community and visitor pages then provide routes into other relevant sections of the website as well as informational pages that a user may find relevant.
Search
Discover Ripon is a website largely dominated by news, events and businesses, most are more than a few clicks deep. We were concerned about the ease of access to this information. Also how we divided the content into community or visitor sections presumes we expect all users to understand how Discover Ripon has chosen to separate the content.
This won't always be true so providing alternative routes for users to find the information they required was a must. So we prioritised the search as the major navigation route of the website, and similar to Google placed the search box front and centre of the homepage.
Blocks
Creating a design language that provides a level of consistency through the website is important to aid users in navigating through a website quickly and easily. For Discover Ripon we created a block view where sub-page navigation would all have a consistent look and feel no matter what section of the website the user would find themselves. Although resulting in a minimal look on some pages the ability for users to be able to find the information is a higher priority than visual flair.
This created a base style for links to any sub-pages but in some instances content or links to other sections would need greater focus. For these the style and size of the blocks would change and be placed at the top of the page rather than mixed within the standard pages.