According to some reports 58% of all CMS driven websites are built on WordPress with 27% of all websites being powered by WordPress. Only Lanyards is no longer one of them.
Only Lanyards came to us with suspected Google ranking issues and one of many potential solutions was to deliver a new website that we knew would be clean, efficient and fast. But the old website wasn't only struggling with Google, it also contained other issues by not effectively communicating the main selling points of the company, it also had no clear navigation and the user journey was muddled at best. A new website could help solve a lot of issues for the client.
Bye Bye WordPress
WordPress is a powerful tool and offers a lot of customisation both in the core and through a huge number of plugins created by a wide community of developers. This is why in many cases we use WordPress to deliver our CMS driven websites.
Yet for some websites WordPress can be restrictive and an unnecessary barrier to achieving client goals quickly and simply. And even though a client requests a Content Management System it's not always the case that they'll actually use it.
This is why Only Lanyards has migrated from WordPress to a bespoke solution. By determining that the client didn't need regular access to edit their content we could focus on delivering a more complex design, in a shorter time and without the disadvantages that come from designing with a CMS in mind.
An easy design
One of the key messages that the client wished to communicate was the idea that "We're going to make their lives easier". The old website didn't do this.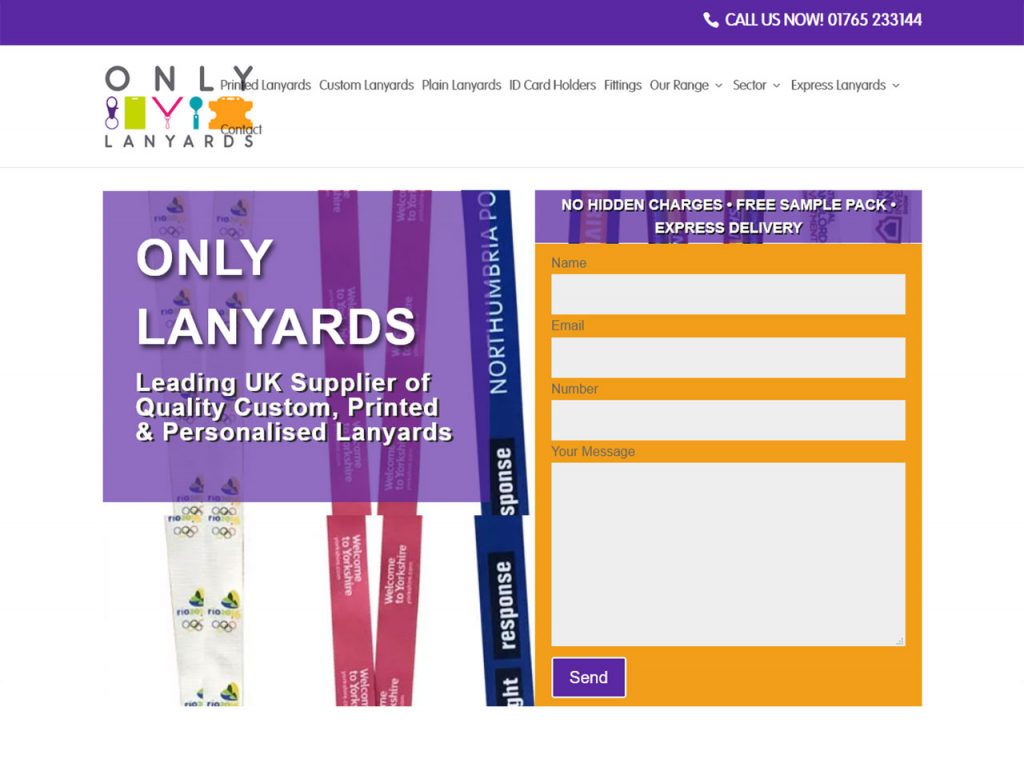 It simply didn't utilise the available space effectively and what's more strange is that the version of the website this replaced in 2018 was far closer to the site we'd look to create as it was far more effective in achieving the goals we had set out for the new website.
To make things easy for users we had to better use the available space on the website. There'd be no room for an enquiry form appearing too early in the process, our navigation would be simplified and not overlapping the logo at certain screen sizes and we'd not waste space by repeating the brand name in a prominent position. Instead we'd promote unique selling points, trust signals and call to actions more prominently, all in a visually engaging way.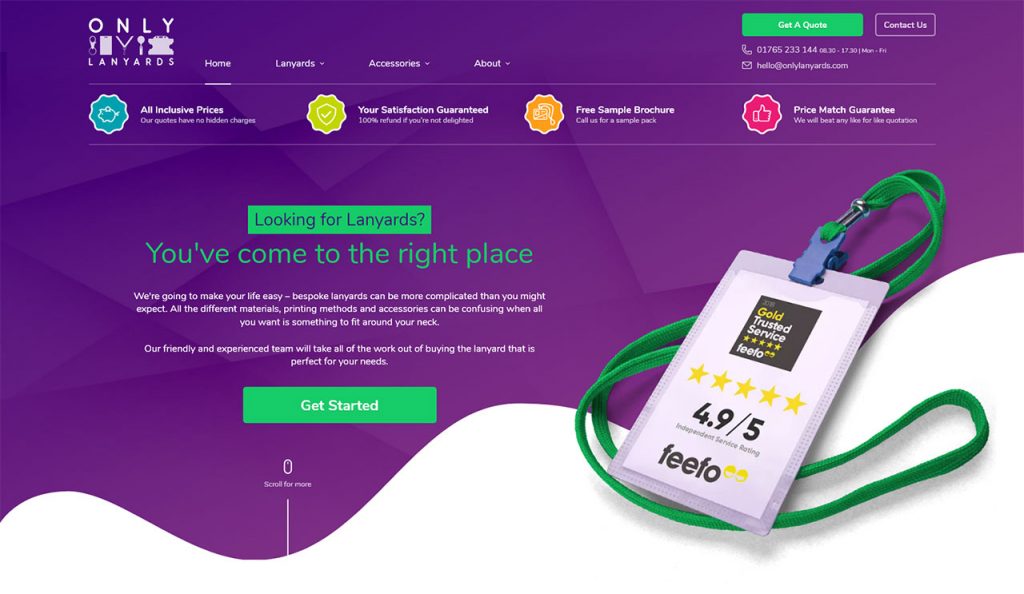 One element we really think works effectively is our combination of adding the Feefo information into the lanyard/card holder. Through one element we're able to communicate purpose and present a huge trust signal to users in a highly prominent position.
Making the navigation simple
When it comes to website navigation it's easy to throw everything into the top level navigation in the hope of giving all parts of the website visibility. But in doing so you often confuse users by not grouping similar content or providing clear routes through the website.

Take a look at the old website, do terms like Our Range or Sector make it clear what will appear under these pages, especially given that you might expect Printed Lanyards and Custom Lanyards to be subpages of Our Ranges and not given the same prominence.

For our version of the website the top level navigation needed to be far simpler; Home, Lanyards, Accessories and About. Through drop down and mega menus we'd better group content of similar types and have the space needed to display more meaningful headings and page titles.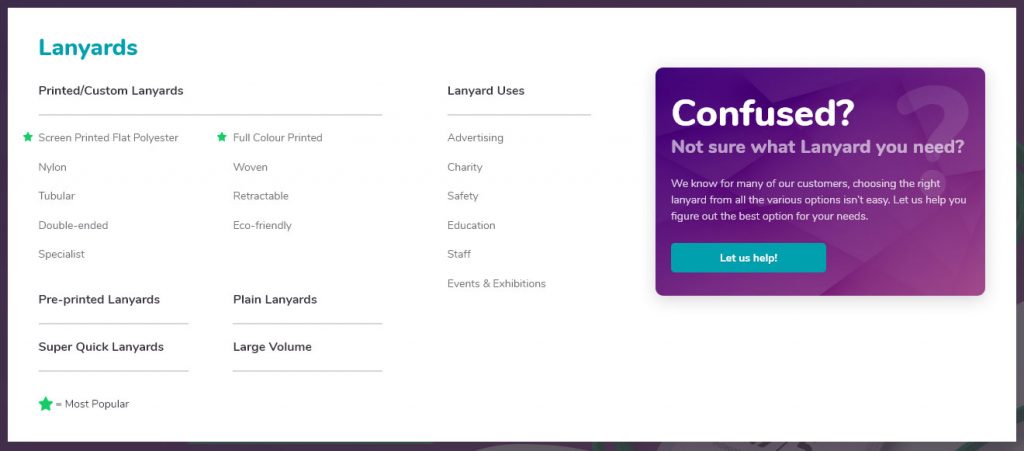 Lastly we'd separate the Contact link from the main navigation on desktop screen sizes in order to place this alongside expanded contact details and a Get a Quote call to action. The additional benefit of this call to action is that it aides user understanding that Only Lanyards aren't an online shop selling off-the-shelf products but provide a wider ranging service.
Sell, Sell, Sell
When a client offers something that competitors do not, or which users may not consider as standard then it's important that the website tells people about it. For Only Lanyards it was important that we get such messaging displayed prominently and so utilised the space below the header on all pages to display messages such as All Inclusive Pricing and Price Match Guarantee.
In fact we had more of these 'unique' selling points than we could display in this space but were concerned that overcrowding the space, or using more screen real estate to display more would have a negative impact on user appreciation, so stuck to four.
Confused? I thought you were
While some will live and breathe lanyards and know the difference between a Screen Printed Flat Polyester and Dye Sublimation there are many more who haven't a clue and just need something to hold an ID or need them for their next event.
So we looked at how we can serve these users who just don't know exactly which type of lanyard is best for them. Our solution is to provide an alternative quotation form that asks less questions of the user and where the OL sales team would follow up, guide the customer and offer them the best solution based on their specific needs.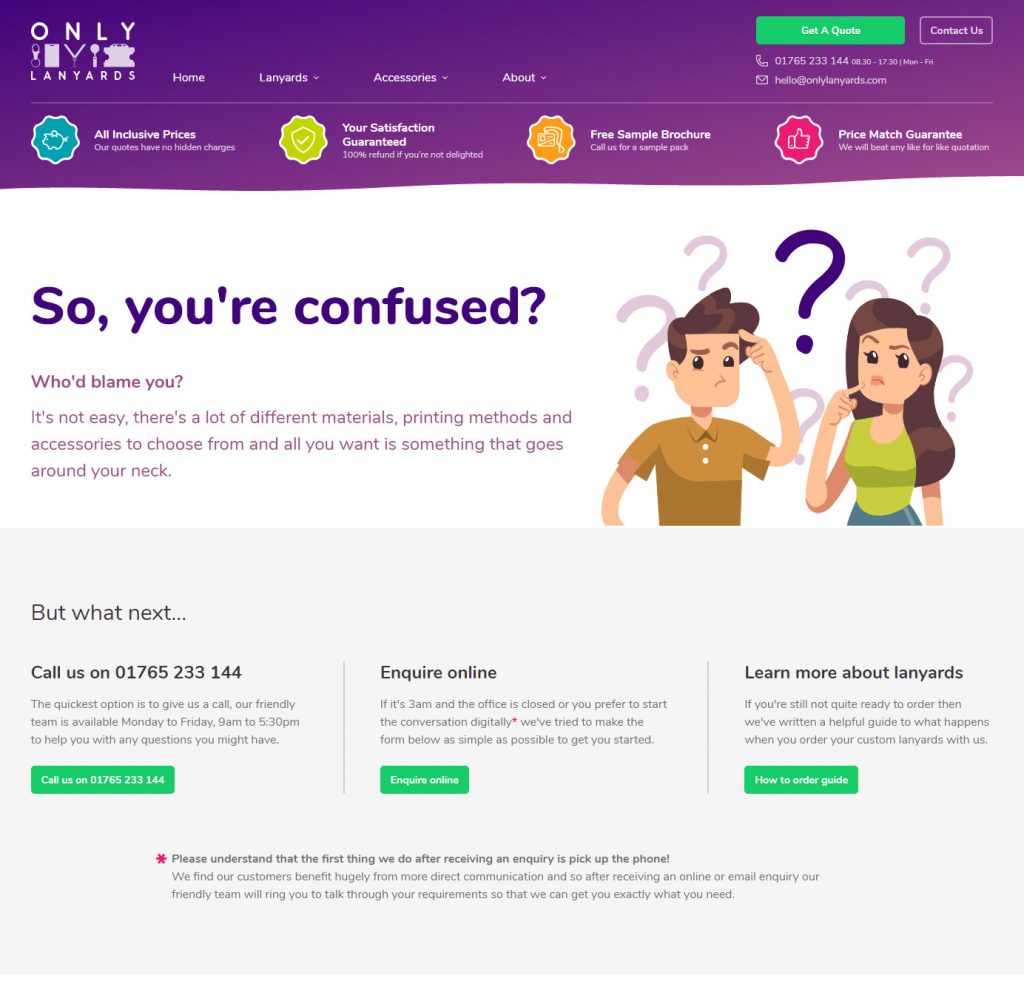 The website would then display a number of call to actions around the website offering users routes into this enquiry form.
But that's not all, the website also includes content under the headings of Buying Advice and How to Order that provide users even more information about the ordering process with the aim of helping users understand more about buying from Only Lanyards.
Goals Achieved?
Time will ultimately judge whether the changes we've made have achieved the goals we and the client set out and if the website fulfils the needs of the user. But we're happy that the website is a big step forward, we feel it communicates clearly who Only Lanyards are, what they offer and how they want to help users get what they need.