If you're using Facebook ads to promote your business or you work in Digital PR managing client ad campaigns on Facebook, you've come to the right place for some useful tips to maximise your results.
With over 2 billion monthly active users, a 7.18% increase year-over-year, Facebook is one of the most popular social media platforms still today and it's a great way to advertise your brand or product(s) in front of people. Businesses both big and small can benefit from advertising on Facebook, and with the right approach, you can get the results you're looking for from your campaigns.
Here are some tips for optimising your Facebook ad campaigns in 2022.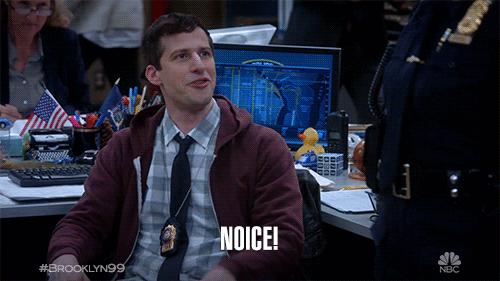 Creating a Successful Ad Campaign on Facebook
Start by identifying your measurable goals. What do you hope to accomplish with your Facebook ads? Do you want more sales, more leads, or more traffic to your site?
We know keeping up with Facebook's ever-changing advertising policies can sometimes put a campaign on the back burner. And sometimes our demographics and detailed targeting options can diminish into thin air, so it's important to constantly search for solutions if things do start to change.
The key thing to remember is:
You don't have a lot of time to promote your ad in front of people on Facebook. Gaining the opportunity to successfully stand out and advertise your campaign effectively to the right people, takes the following:
Keep your ad concise and to the point. People on Facebook scroll through their newsfeed quickly, so you need to grab their attention with your ad.
Identify your audience. Who are you targeting and why? Where do your main customers come from? Are your customers younger or older? Are the majority of your audience male or female? If you don't know this, then you can head over to Facebook's Insights tool to find the gender, age and location of who likes your page. Once you've rounded up your customer base, you can target and use this for your ad strategies.
Use high-quality images that are relevant to your product or service. People are more likely to engage with an ad with a visually appealing image that stands out or a carousel of images. Low-quality resolution and small scaled-down dimensions with your images will not work as effectively.

Recommended image sizes are 1200 x 628 and 1080 x 1080, which is for a 1:1 image.
Use effective targeting to reach your ideal audience. Target people by their interests related to what you're trying to promote, and effectively use the right demographics and behaviours. If you're wanting to promote selling IT equipment, for example, you want to target people who have an interest in around that area. There are plenty of detailed interests inside the Facebook ads manager to do this and experiment with. You could also target people who actually work in computing too, for example;
Use Facebook's Insights tool to track your ad performance and see what's working. You can then adjust your ad accordingly to get the best results. The Insights tool provides you with an instant reflection of how your ads are performing. They also tie in your social posting performance with page likes and comments.
Videos can also hold a successful effect if used in the right way. Just like images, you don't have long to promote your video.

The most beneficial factor for using videos for your Facebook ad campaigns:

Videos enable you to easily explain your service or brand. They grant you time to showcase your product(s) in examples of actually using them, or your video can showcase testimonials to build instant trust. Videos clearly demonstrate what it is you are promoting in the best light. And instantly tells the person what it is you are advertising. Videos also allow you to do voiceovers if you look for a professional edge over your competitors.
Experiment with different strategies, but remember to do it in stages. Facebook delivers the best results when you carefully adjust your ad set targeting day by day. Don't overload and overcomplicate your target audience all at once. Allow Facebook to learn your new setup. Also going too broad for your audience targeting isn't the best way for results in most cases.
Set your budget. How much are you willing to spend on your Facebook ad campaign(s)? Keep in mind that you can set a daily or lifetime budget for your ads. Setting up your campaigns to have a daily budget is the most common way and easiest way to manage. If you're working with client ad campaigns, you will need to discuss the allocated budget you can run.
If your customer base is spread in different countries, be careful to include too many locations as this will only increase the cost per click and will not necessarily increase engagement.
Experiment and split your campaign(s) into different ad set segments if you want to utilise specific attributes. This will highlight what is working in certain targeted areas. For example:

Will your ad cater more towards men or women?
How to Measure the Success of your Facebook Ad Campaigns
Depending on your specific business goals, there are some key metrics that you can use to gauge how well your ads are performing. Each campaign is unique and different to one another. They will be set up in a way to drive the best results for that campaign you're running. For example, if you're simply wanting traffic to your website vs only wanting to receive messages from people seeing your ad.
Although, most Facebook ad campaigns you set up will be using the click-through rate (CTR) metric. You should closely follow this as this metric measures the percentage of people who see your ad and click through to discover more. If your CTR is low, it could be a sign that your ad isn't relevant to your target audience. This information should instantly notify you of what happens next. Whether the campaign is receiving a high percentage or isn't performing.
Another important metric to consider is the conversion rate. Using this metric, you can see how many people click on your ad and then complete the desired action, like making a purchase or signing up for a newsletter.
If you have a low conversion rate, your ad may not be making people take action.
Cost per link click (CPC) represents how much you pay on average for each click on a link.
Last but not least, you should keep an eye on your cost per acquisition (CPA). You can use this to determine how much it costs you to convert one person into a customer or lead. If your CPA is too high, it could be a sign that you need to improve your Facebook ad campaigns.
Here's an example: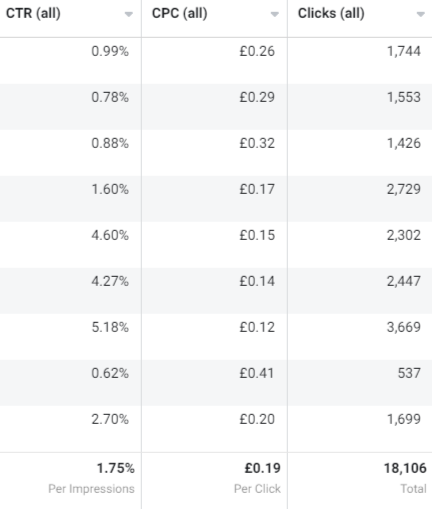 The screenshot above shows previous data displaying ads that are outperforming others. This straightaway allows you to investigate your ad campaigns further, just by seeing CTR, CPC & clicks data from the Facebook ads manager.
By monitoring these key metrics, you can get a better idea of how well your Facebook ad campaigns are performing and make necessary adjustments to improve results.
How to Format your Customer Lists
In order to successfully upload your spreadsheet of contacts, you must follow Facebook's formatting so it can be mapped and uploaded to the system properly, without you losing any imported contacts.
Here are the main attributes a customer list typically contains:
| | |
| --- | --- |
| Main Attributes | Header Fields |
| Email | email |
| Phone | phone |
| First Name | fn |
| Last Name | ln |
| City | ct |
| Country | country |
| Post Code | zip |
How to Utilise your Customer List
Now that you've successfully uploaded your customer list(s), you now have multiple targeting options and different angles you can use.
For example:
You can now create a lookalike audience from your list to allow Facebook the ability to match similar people.
You can exclude retargeting your ad to people from your uploaded customer list, so you are not retargeting the same people.
The customer lookalike audience holds so much potential, as you can directly reach a similar audience to your list and best market your ad campaigns to people who have similar interests and similar searching patterns for what it is you are advertising.
Final Say
Facebook ads are a great way to get in front of your target market. Have you tried using them for your business? If not, now is the time to start!
We can help you create a campaign that reaches your customers and drives sales. Contact us today at sales@bronco.co.uk to find out more about how we can help you grow your business with Facebook advertising.