In the UK our bees are in trouble and are facing serious threats with loss of species and decline in populations. Last year we adopted a beehive on an organic farm and became interested in raising awareness to help people understand the importance bees play in our eco system.
There is a huge lack of social awareness about the plight of our honeybees. We have been working with Bees for Business and pioneer Jez Rose for a number of years, and it was he who opened our eyes. Now we are working together to raise awareness, especially considering one third of the food we eat relies on pollination by the honeybee.
So how bad is the situation:
We have lost 97% of flower rich meadows since the 1930s.
In the UK, we have already lost around 13 species. 
35 UK bee species are in danger of extinction.
In the early 1900s there were around 1 million beehives in the UK; by 2015 we were down to just 270,00 beehives. 
Across Europe, nearly 1 in 10 wild bee species face extinction.

What we are doing to help
As well as adopting a hive with Bees for Business, we have also created a website The Life of Bees to highlight the importance of bees and offer some education, so people can find out what role they play in the eco system. Additionally we are also sharing organic bee friendly flower seeds with our clients, colleagues and others in the industry and local area, encouraging them to plant them in their gardens and give something back to the bees.
What you can do to help
Saving the bees is something everyone can do, just little changes can help:
Plant bee friendly flowers and flowering herbs in your garden.
Don't use chemical and pesticide weed killers.
Instead embrace dandelions and trim back before they seed.
Buy local honey; it's not only good for local business but also your health.
Leave out water for bees during the summer months. Just like the birds, they can get thirsty.
Buy locally sourced organic vegetables, fruits, herbs and salads.
Don't be afraid of bees – they only sting when they feel they are in danger, so keep calm around them.
Our organic bee friendly flower seeds
The flowers from these seeds attract honeybees and native bees, as well as looking beautiful. As we have been losing a lot of our meadows and more people turn to easy to look after shrubbery and gravel gardens, pollen for bees has been dwindling. However these seeds couldn't be easier to grow, whether you have a large garden or small patio, they can be sown straight into the ground or a planter and will provide you with beautiful flowers and the bees somewhere to eat.
The Life of Bees
We have created the Life of Bees website to raise awareness for honeybees in the UK and globally, as well as to look at Corporate Social Responsibility (CSR) and how schemes such as adopting bee hives like we have done with Bees for Business can reap huge benefits. As hard as we try as a business, we have an impact on the environment, so work like this helps offset some of the effects we have. It also has had a positive effect on the team, not only do we get to enjoy our own honey crops, but also many people in the office have taken an interest in the environment, honeybees and gardening!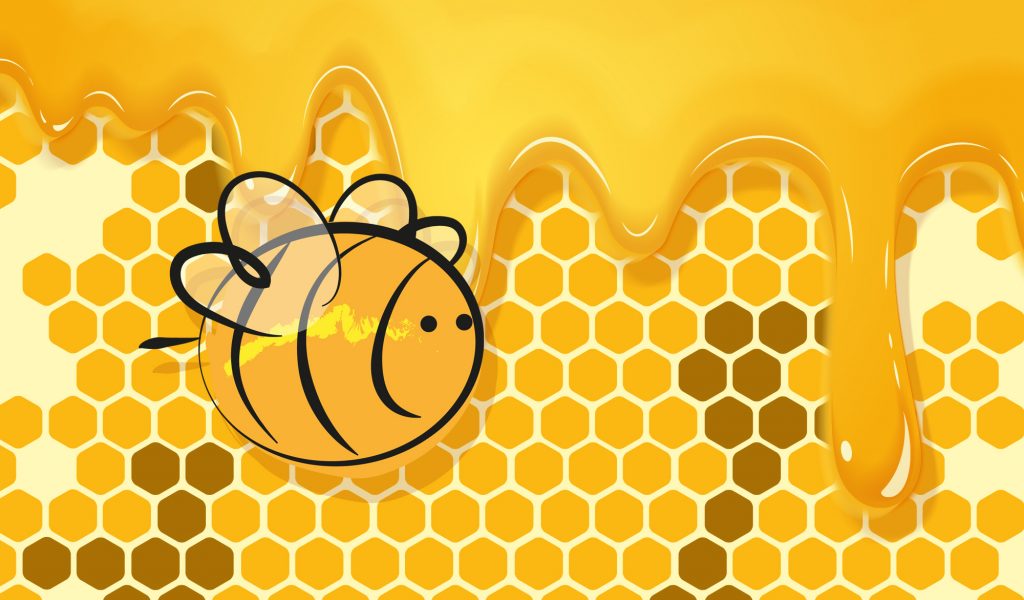 A word from our Director of Client Services Becky Naylor:
As a company we have always worked hard to help and support the local community and be part of interesting projects. When the idea and opportunity arose to adopt a beehive there was no question in my mind as to whether we should do it, and when I sought the view of the staff, they were all 100% behind the scheme and excited about it.
I see it as just being a well-rounded company and giving something back, whereas others see it as us taking major strides in our Corporate Social Responsibility (CSR). I'll take either, as I just love what we are involved in, and I'm so pleased we can take on these extra projects.
The beehive has a great parallel with business too that we can resonate with. Not only do the bees work extremely hard to produce the amazing crop of honey (each bee produces a twelfth of a teaspoon of honey in their lifetime) but it is how they work that is very powerful. Within the hive they need to have great communication and a clear definition of their roles. Whether you are a nursery bee raising the young, a guard bee protecting the hive, or an undertaker bee, each bee works really efficiently together seamlessly for the good of the hive. Along with the parallels to business we are also learning a great deal about a species that many of us take for granted, and which is so important to our food production worldwide.
What our clients and friends thought:
"Love the seeds – have been tidying garden for planting… can't wait!"
"Just a quick note to say that I like the Bee keeping initiative.  Although it is through a different scheme, we adopted our own hive last year. Just received your seeds which I promise will go to good use in our garden in Tadcaster. We have an area we have left wild to encourage bees and butter flies so these seeds will add to the mix."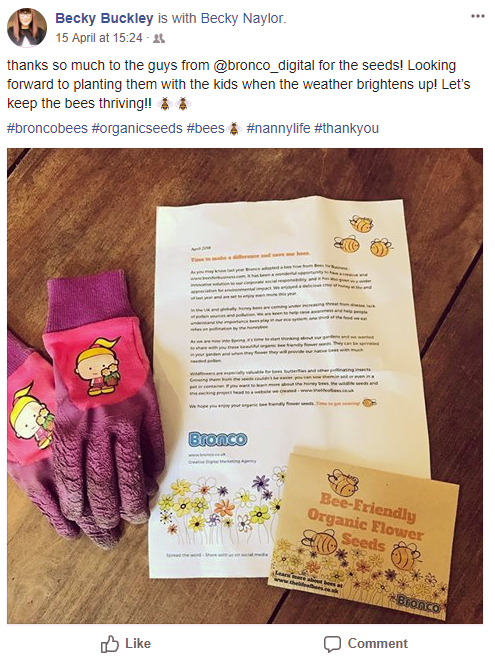 Every little thing helps and we are hoping by sharing the message we and the Bees for Business are doing, we can increase awareness and help people make changes which can reverse the decline of our pollinators. 🐝