That time of year again when you put batter in a pan and toss it for a perfect pancake!! The Bronco staff are enjoying Pancake Day this year, are you?
A bit of history about today.
What is Shrove Tuesday?
Shrove Tuesday is the day before the Ash Wednesday, the start of the Christian period of Lent which runs up until Easter. Shrove Tuesday is a day of feasting, before the fasting of Lent starts.
Christians will go to church to confess their sins, and would be 'shriven' or forgiven before Lent starts. They would then enjoy a day of feasting, using up rich foods which are forbidden during Lent.
What are Pancakes and where did they come from?
One of the ways to use up the rich foods before Lent such as eggs, butter and milk was to make pancakes. A pancake is a thin, flat cake, made of batter and fried in a pan.
Pancake Races
According to legend, in 1445 a woman found herself still making pancakes as the church bells rang, so rather than be late to church she dashed out of the house apron still on and frying pan in hand and made her way to church, with her pancake.
Since then Pancake Races have been held across the country on Shrove Tuesday, the most famous ones include, Olney in Buckinghamshire and Ripon in North Yorkshire. Competitors race in traditional clothing whilst tossing a pancake in a frying pan, without losing their pancake.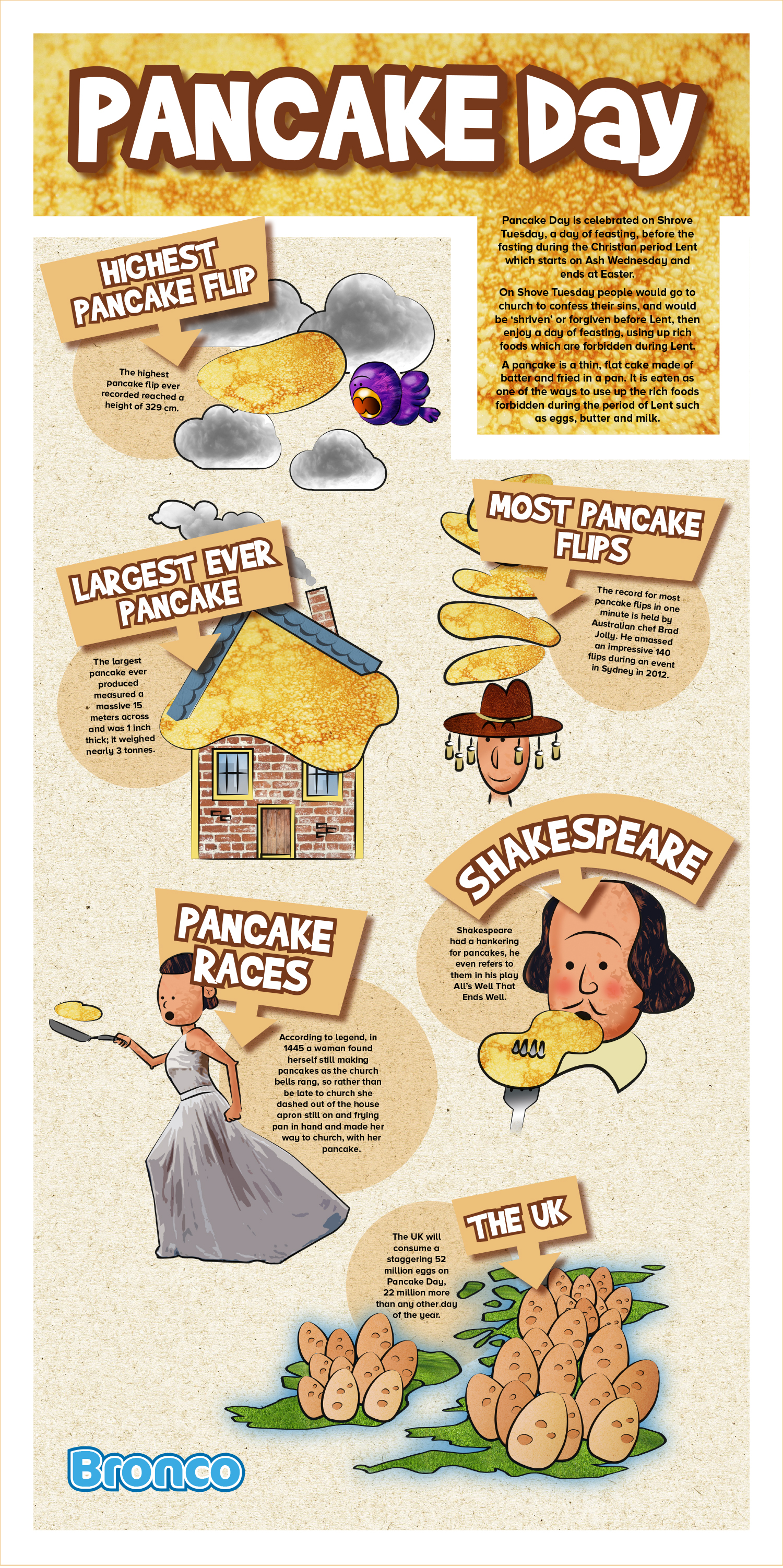 How to make pancakes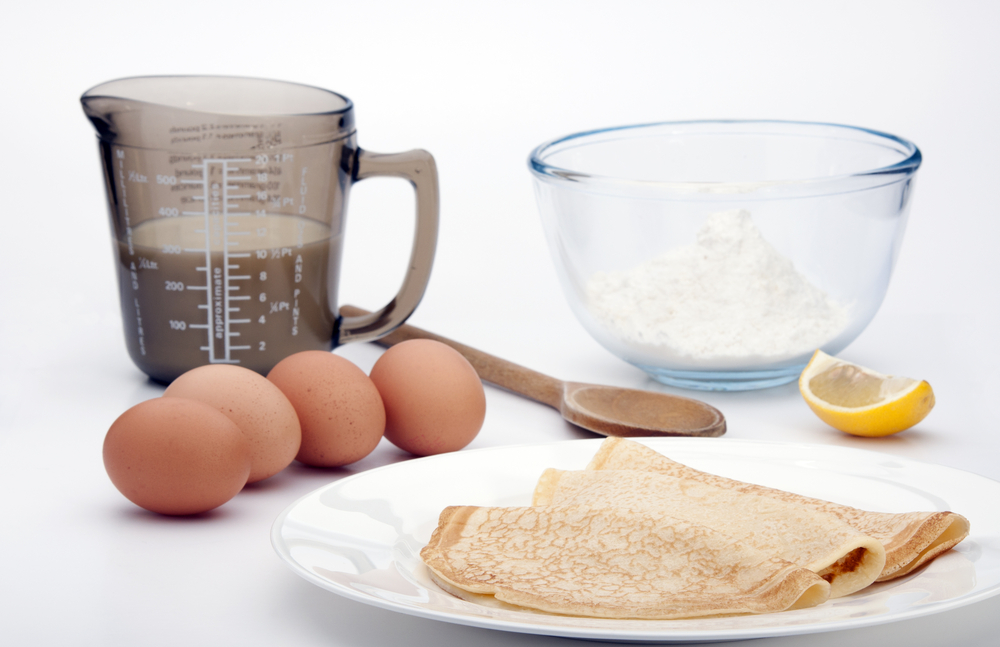 Ingredients
100g/4oz plain flour, sifted
Pinch of salt
2 eggs
300ml/10fl oz. milk
Scant amount of oil for wiping
To serve
Caster sugar
Golden Syrup
Lemon juice
Lemon wedges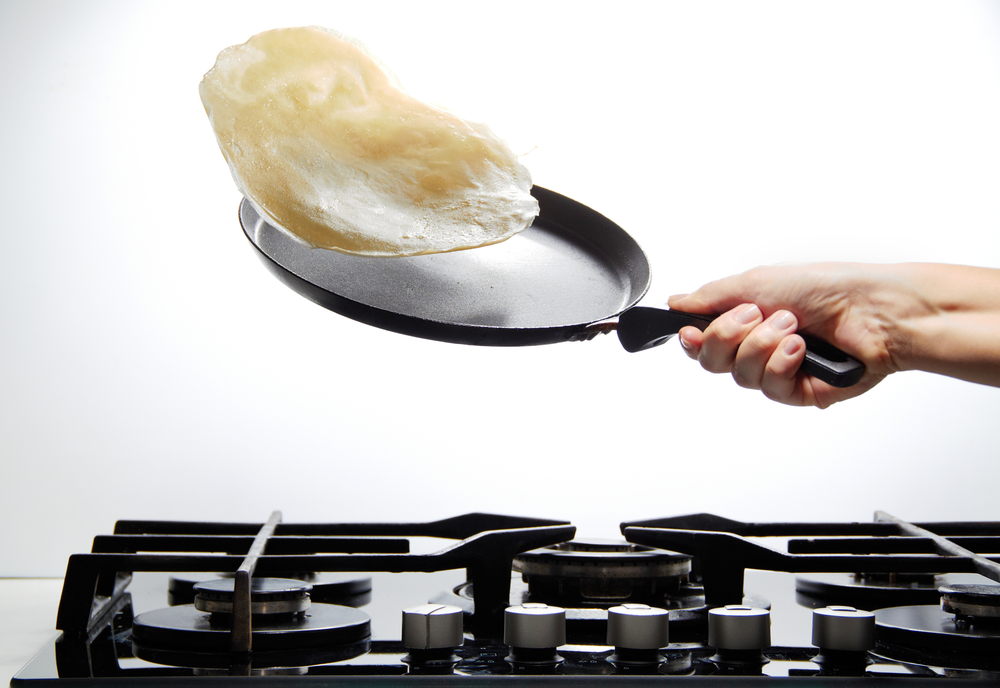 Method
Sift the flour and salt into a large mixing bowl and make a well in the centre of the flour and break the eggs into it. Incorporate the eggs into the flour then slowly add the milk, as you continuously whisk the mixture until you have a smooth batter.
Heat a medium sized frying pan on a medium heat then wipe it with oil and ladle enough batter into the pan to coat the base with an even, thin layer. Then leave for about 30 to 50 seconds until the top has set and the bottom is golden, ten flip it with a spatula or with a flick of your wrist in the air. Cook again for another 30 to 50 seconds and serve with your favourite condiments, enjoy!