Finding a new campaign idea for a client that's unique and original nowadays isn't exactly easy. Digital PR is in its heyday and there are countless ideas from brands going out into the void every single day; everyone is competing for the same slice of cyberspace. This means that for a piece to hit the headlines, it needs to fit a number of criteria perfectly: niche, outreach style, timing, storytelling, data, supporting media…and sometimes just a little bit of luck for a journalist to take a chance on your idea.
Today's case study looks at a piece we produced for a client in a slightly tricky to market niche, but that was a success not only for their company, but for digital PR in general.
The Original Instagrammable Campaign
Take a look at any consumer travel news site today and you're bound to find at least one article claiming something like: "These are the most Instagrammable destinations in Europe" or "Here are the top 10 most Instagram worthy cafes in London". Many say that the Instagrammable campaign is overdone and thus dead; we beg to differ as Google results say differently – remember, crafting a story that people are searching for will always win!
So while Instagrammable stories are commonplace now, they haven't always been. Back in 2017, we launched a campaign for our holiday home insurance client, Schofields Ltd, on how two fifths of millennials choose their holiday destinations based on how instagrammable their holiday photos would be.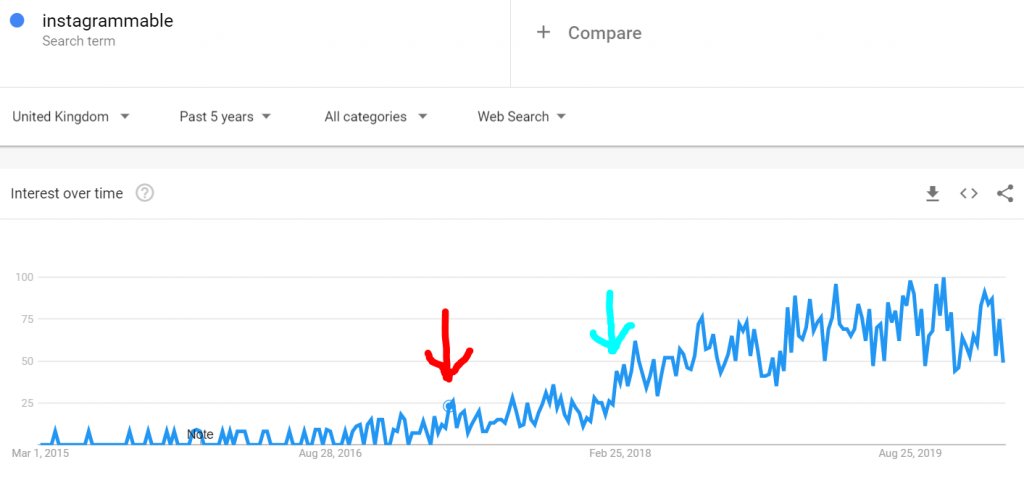 The red arrow shows when we launched the campaign in late March 2017. The jump in early/mid-2018 with the blue arrow marks when the campaign had a second wind.
At the time, the word "Instagrammable" had barely been used before; now Google News looks like this for that search term. This campaign was the springboard that launched the concept of destinations, businesses, restaurants, shops and more being "Instagram worthy" and having "Instagrammability".
The Stats
The piece was really very simple. We took a look at the top factors that people said contributed to their decision in choosing holiday destinations and, using a single question survey, asked them to rank which one had the most impact; among 18-33 year olds, the group known more commonly as millennials, the top result was how instagrammable the holiday would be.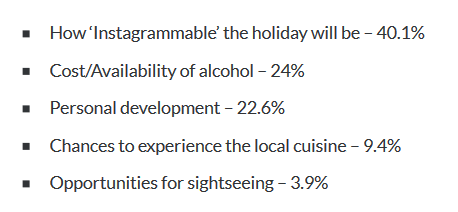 The Coverage
Our first big piece of coverage rolled in from The Independent on 24th March 2017. Then the Metro covered it, as did Harpers Bazaar Australia, the Evening Standard and Red Online. That's just to name a few pieces of coverage in the first week.
In the following weeks and months, the campaign went viral across news networks internationally, featuring everywhere from CBS News and Fox News to Forbes throughout 2018 (see Google Trends graph). In addition to this, it picked up mentions from smaller industry focused sites and influencers. The piece has a fantastic spread of links across sites of all sizes. It's even had mentions in conferences and books, people citing the stats to help others market their brand.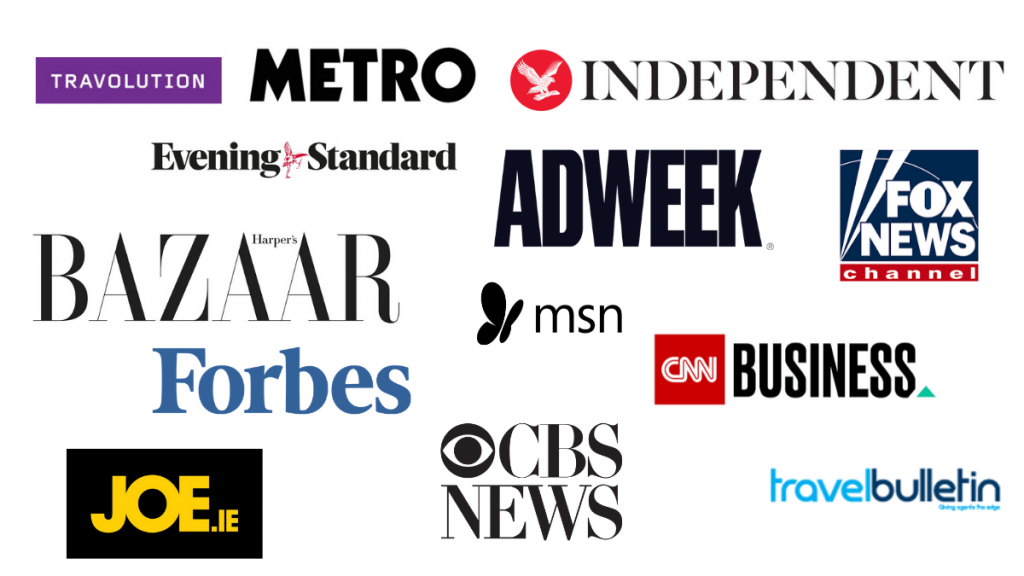 To date, the campaign is still earning not only mentions but natural links and shares for the client – 3 years later!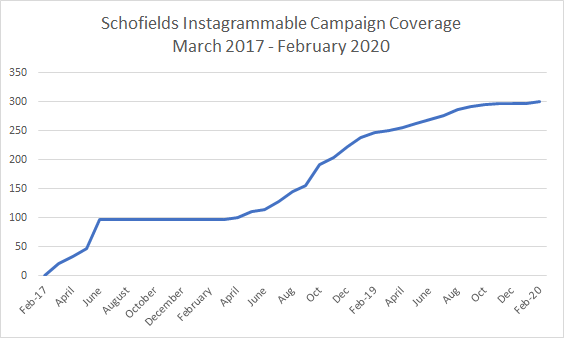 It's been tricky to round up all the coverage over 3 years when it's had 300+ placements, some even offline and word of mouth too. It has been translated into Spanish, Vietnamese, Greek, French, German, Italian and potentially more, these ones are trickier to search. Just looking at a sample of 24 pieces of coverage, the views and shares were phenomenal: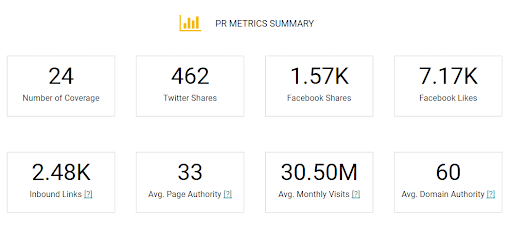 Why did this campaign work?
This idea worked so well as it was a double edged sword:
Mass appeal
First it's of interest to the general public – something entertaining, light-hearted and fun; you can tag your friend in this to make fun of the recent holiday photos they'd shared on Instagram. Newspapers and online magazines love this angle as it means shares and interaction on their profiles – even big nationals still want to keep their engagement levels up!
Secondly it has useful information for other brands in the online travel world. They can take this information and know how to best target a subset of their customer base. It can be used in presentations that lowly digital marketing personnel could take to their bosses to show just how important the digital world is to people under 35. It specifically targeted a generation of people whose online lives are very important to them.
It works internationally too – wherever you are in the travel world, this single, easy to understand figure is relevant. The stat is evergreen too – people will continue to refer to it as a point of reference in future, even when trends have moved on. Remember, at its heart this is a very simple campaign: it shows that people under 35 like to travel based on how photogenic a destination is and how envious it will make their friends when they share photos of it.
It was timely
While the story was very simple really, it also had very good timing. We launched this campaign at a time when the idea of "instagrammability" wasn't yet oversaturated as it wasn't an expression that had truly entered modern terminology. In addition to that, the era of the modern influencer on Instagram as we know them today was just taking off – there was a huge leap in daily active Instagram users between January 2017 and September 2017, from 150 million users to over 500 million users. This campaign launched in March 2017 and hit its high point in early 2018.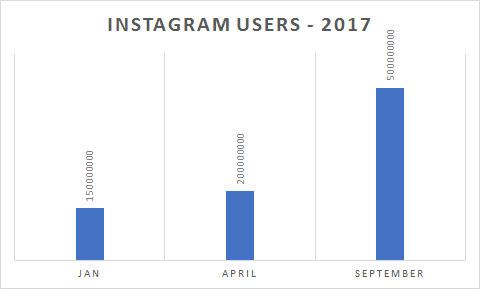 Good "hook"
But why did it go so far? The coverage was widespread: it's clear that despite all the big news coverage and shares on national and international magazines and newspapers, the vast majority of articles refer back to one piece as a source – an article at Travolution – a news website dedicated to the online travel industry. It is due to the credibility and good standing of this site that we gained a huge number of secondary shares.
A word of warning!
Have you heard of Blue Monday? This is a day in January, typically the third Monday, that is said to be the most depressing day of the year, leading to people booking more holidays to escape the daily grind.
But did you know this was originally a marketing campaign launched by Sky Travel in 2005? It might be called a huge success – everyone knows the phrase Blue Monday! But unfortunately today nobody really seems to know any more that it was once a phrase coined by Sky Travel. Searches for Blue Monday show up a huge variety of brand campaigns and Sky Travel's original one is hard to find among the noise.
So while launching an original campaign idea will work wonders for your brand in the beginning, be wary as you may eventually lose control of it as everyone sees the success of your idea and makes it their own.
Like the look of this campaign? Get in touch with Bronco today to see what we can do for your brand!