Key updates this October from both Instagram and Facebook which will impact your brand on their platforms. Let's look at what's new in the world of Social Media.
Facebook Adverts – Target people in Facebook Search Results
Using data collected from billions of transactions initiated by Facebook adverts, and the interaction of millions of buyers and sellers on the Facebook Market Place they have been able to offer brands a new way to reach people.
Creating new ad campaigns using Automatic Placements will now automatically include Facebook Search Results placement. This option can also be manually selected if you wish, once selected, your adverts will then be shown, if eligible on search result pages. This also extends to the Marketplace search places. The adverts will still only be displayed to those which match the audience targeting of your campaign and also be relevant in the context of the search results, limited to a set of English and Spanish search terms.
As with other Facebook adverts, they will be similar in style to News Feed adverts and also show the 'Sponsored' label, so users will still be able to see it as a paid placement.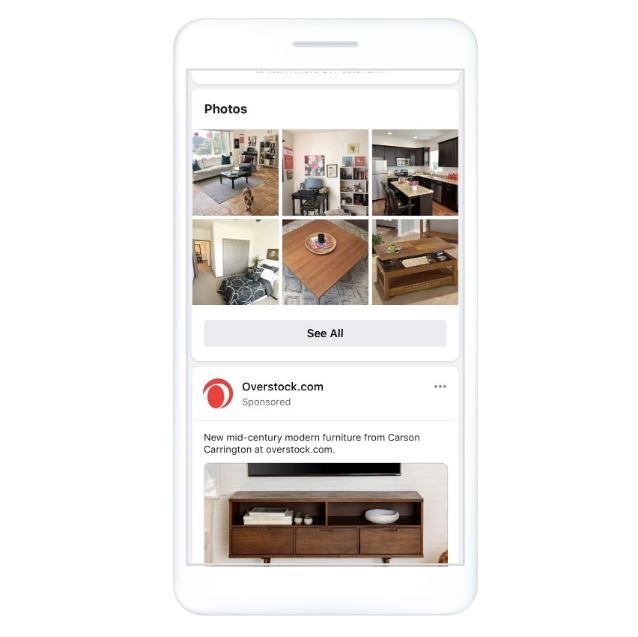 There is also an option, to not use this function if you so wish, when setting up the adverts you do not select "Automatic Placements", and deselect Facebook Search Results and/or Marketplace placements.
Facebook Business Pages – The Grey Verification Badge is going
Facebook is also removing its Grey verification badges as of the 30th October. The grey badges were designed to display Page authenticity. The blue badges will still be present. Facebook stated they are removing the grey tick because users were unclear on what it represented, according to the feedback they had been given.
If your Page has a grey badge you will be given the following warning:

Business Pages need to make sure that their profiles are complete and that all information is up-to-date with a profile picture and the correct contact information.
Facebook Business Pages – Changing Organic Page Impressions
Facebook is also changing the way it calculates organic Page impressions, and this could affect the perceived Page and post reach, likely to see a decline. This move makes post calculation more inline with their advert calculations. However, although your stats may drop, it's not a negative, due to the fact the changes will make reporting more accurate, which will have benefits in the long run. The data will show how many people have viewed your content, minus repeat viewers.
Instagram – Working on Event Invite Sticker?
Word on the Twittersphere is that Instagram is testing – New Event 'Invites' Sticker for its Stories, intended to drive user participation. This was discovered by reverse engineering expert Jane Manchun Wong, who shared her findings on Twitter. Looking at her example, you will be able to add details of your upcoming event – including title, date and location, which you can then attach to your Instagram Story as a Sticker. Viewers will then be able to RSVP to the Sticker, allowing you another avenue to generate interaction, track users and also share exclusive content.
There are plenty of options this Sticker could be used for, such as new product launches, Q&A's new video releases and much more. Stories are becoming more and more popular with users and a useful tool for marketers and an essential factor in page interactions, this potential update allows brands another way to connect with users. Although no official release or statement from Instagram, hopefully, it won't be too long before we see this update.