Is tablet traffic on the way out? We know sales for the tablet market are also on a fall, the main reason being that users simply don't need to upgrade their tablet devices, therefore the market is slowly decreasing in sales. We investigate what we know and what we can see further.
Digging into Google Analytics, we can see that in some sectors traffic is on a slight decline for tablet devices, correlating with the growth of the mobile market. SEOs have seen this coming since we noticed the drop happening around the 2016 mark. Since then, mobile has continued their ever increasing rise and we can see mobile is even overtaking desktop organic sessions now.
Tablets rapidly rose in popularity back in 2012 when bigger laptop and desktop manufacturers were reporting falls in profit due to the introduction of the Samsung Tab and iPad. The introduction of the first iPad had a huge impact on the market, hitting 3 million sales in less than two months.
So what do we know?
Well, we know the benefits tablets can bring in terms of portability, allowing you to work on the move, the ability to provide efficient communication, simplified task checklists, easy to view spreadsheets with data, and so on.
Even many hospitals, doctors and health sectors all use tablets now for everyday use. They're also a popular tool in schools, allowing for more effective learning.
Recently, however, there's been a decline in tablets sold worldwide.
So many questions!
Are they becoming strictly home-based use now? Is this the sole reason we are seeing a drop in traffic? Do we use our tablets for web browsing or are they focused more on app games and streaming videos at home?
As you can see in the below image, Apple is still on top and on the rise, but Amazon, Samsung and Huawei have all taken a hit, fading in growth from year over year developments.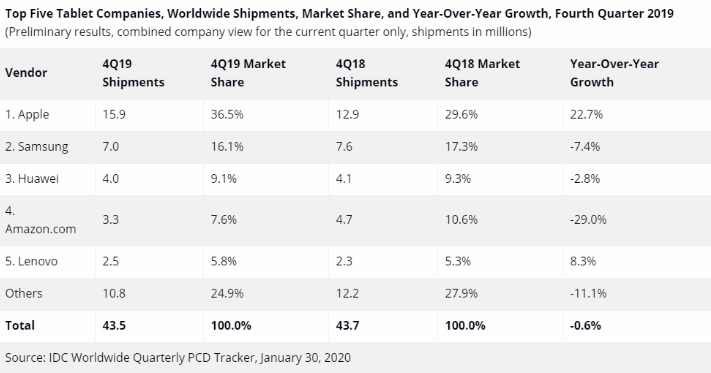 As the above data shows, only Apple and Lenovo had positive year-over-year growth, however, overall we can see a downward trend in most companies for tablet device sales.
Huawei, over time, has risen to the third spot, overtaking Amazon's tablet sales, which has seen a decline over the past year. That's a massive 29% fall in sales for the giant, Amazon, which as a result sees Huawei continuing to close the gap to the top tier position.
Let's take a look at tablets in more detail:
Over the years, there have been numerous different tech brands competing for the best tablet space, some being hard hitters, some not so much. The most popular tablets, however, are:
iPad
Galaxy Tab
Huawei
Kindle Fire
Lenovo
Of the bunch, Apple was first to lead the dent into the new niche with the iPad, closely followed by Samsung, and so on..:
The first iPad (1st generation) came out in April 2010.
The first Galaxy tablet (Galaxy tab 7.0) came out in September 2010.
The first Huawei tablet (MediaPad) came out in June 2011.
The first Amazon Kindle (Kindle fire) came out in September 2011.
The first Lenovo tablet (LePad) came out in June 2011.
Given the release dates, tablet devices didn't accomplish huge selling points until 2012/2013.
Tablets, along with smartphones, began to excel a couple of years after their initial first launch date. This tends to be a common trend with new tech, as the manufacturers begin to understand what users want out of the device.
So let's take a look into some facts…
The below graphs show the total amount of tablet sessions to a couple of websites over the last 3 years.
Site 1:

Site 2:

Despite overall traffic being considerably up for both examples through desktop and mobile, we're seeing a decline in tablet traffic over the same time.
Do we know why traffic seems to be dropping for tablet use?
There could be many reasons behind why these are seeking in a downward trend, however, here's a quick breakdown:
Truth be told, the list can be endless in terms of traffic drops on an individual level. Google algorithm updates can affect your website's traffic, either in a clearly visible way or not. Valuable backlinks lost, SEO changes to your site, migration, redesign and content clear up also plays a part, while spammy or irrelevant links on your website can lead to it being penalised.
If a website's page isn't optimised for tablet use, which is commonly reliant on responsive designs, this will most likely see tablet users resort to visiting the website's desktop site via their PCs… Or may see users not continuing to visit the website at all.
Fully responsive web design is recommended for a functional and all-round user/Google friendly website, which will cater to mobile, desktop and tablet. This adds benefits such as increased sales, leads and engagement.

The rise of mobile phones over the years has seen many changes in technical performance and capabilities, sizes of the phone and screen size, all of which leave little reason for someone to purchase a tablet. Phones offer a lot more practicality over tablets. They're a staple in everyday life, compact, and allow people to make calls, whereas tablet devices need a separate data plan, for example, to allow them to access the internet without Wi-Fi. All of these features show why mobile is in high demand for website traffic.
Convertible/hybrid laptops transition into tablets, essentially making them two devices in one. These are popular, such as the Microsoft Surface and the Google Slate. These devices fall into the desktop category in Google Analytics, despite showing the same functionality and features of a tablet.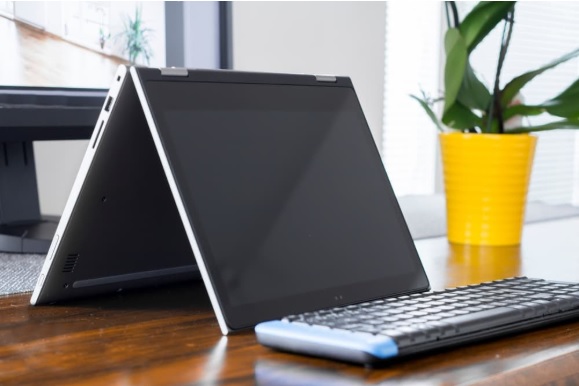 Having a smartphone these days is the absolute must-have, and having an extra device, such as a tablet, may be an expensive field for the everyday user, after all, smartphones are so technically advanced they leave little need for a tablet.
Naturally, as the smartphone market has grown and introduced new and innovative tech, so has the development of traffic to websites generated from mobile phones. In fact, mobile traffic has grown that much, Google has made its primary index mobile.
The below graph shows a breakdown of a website's performance which has been split by device type. This is a year over year comparison, for the last 3 months.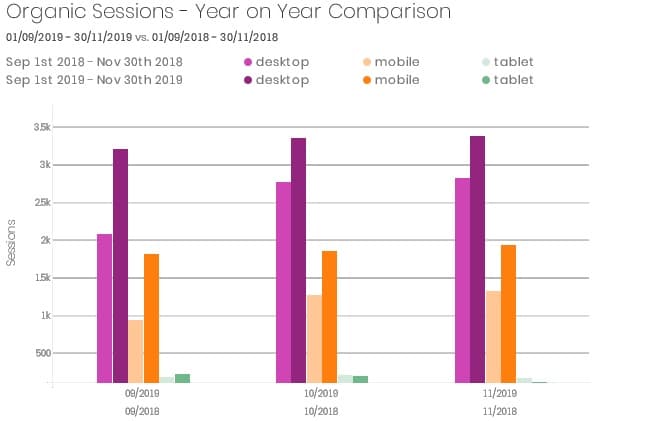 As you can see, tablet sessions are really low across this time scale, almost reducing to nothing.
Whereas desktop and mobile devices has shown an increase over year on year comparison.
If we take a look at 2015 – 2016, however (for a different client):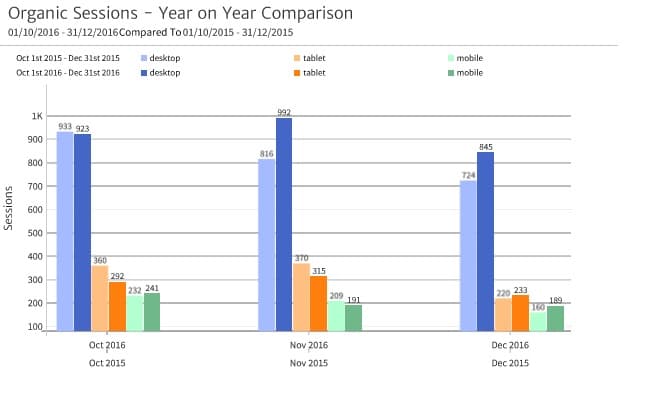 Well, the above data looks a bit different now.
Tablets beating mobile devices in traffic web page sessions? That's right, during 2015 through to 2016, mobile was a solid last with the lowest traffic, whereas tablet sessions were showing optimistic results overall, much higher than mobile.
Desktop has maintained its dominance during this time for organic sessions.
That being said, there has been a desktop fall over the last seven years (below).
You can see when tablets and mobile devices shone through and topped the scale. Recently, tablets have decreased ever so slightly, whilst mobile has topped over desktop.

So what are the key takeaways here?
-We know traffic isn't down for all niches as a whole, but have noticed a slight decline coming from tablet traffic. Is mobile and desktop simply the place to be for web browsing?
-As long as tablets are still around and still being sold, they will impact traffic figures.
-Does the convertible/hybrid laptop have an impact on tablet device traffic? We know they have the same functionality of a tablet, however, classify for desktop category in Google Analytics.
-We know the importance tablet devices bring, helping provide healthcare sectors and schools the smooth functionality they need. The impact is huge with school pupils being sent home with tablets for homework these days.
Our Predictions
We predict that the ever growing rise of mobile will overlook tablet traffic for the next couple years as a minimum. There could be turning points here though, as the recent release of the latest iPad back in September 2019 will definitely get traffic progressing forward. But ultimately, we believe that mobile and desktop will carry forward their dominance in organic sessions for website traffic.
Voice search is on the rise, which will highly impact and rocket mobile traffic, seeing 27% of the global online population using voice search on mobile, according to Google reports.
Mobile gaming has an enormous scale of users, a whopping 2.5 billion video gamers from around the world, recorded in 2016. This is slowly progressing higher and higher. Which will correlate with web browsing traffic. The mobile gaming revenue reached 16.5 billion euros and expected to reach 26.3% more in 2021.