This is the first stage of our Digital Marketing journey: the process we follow when working with clients on content and social media marketing. Here we look to understand more about the client, their ideas, their competitors and what their processes and end goals are. Research and discovery are the building blocks of successful content marketing plans.
There are a number of tools we use, some which are paid for and some which are free and anyone can access them. The key points in research and discovery are to ascertain where our clients stand against their competitors, what backlinks the competitors have and where they are being featured.
Additionally we can use these tools to look at what 'noise' there is online about the sector our client is in, what their competitors are talking about or how the client and their competitors are being talked about, whether it's in a positive or negative light in the industry.
Moz Link Explorer
In terms of content marketing, we use Moz Open Link Explorer for competitor analysis and influencer analysis. We are able to see what sites are linking to our client and their competitors, how recent these back links are and also how relevant. It also allows us to see the Domain Authority (DA) of influencers, their Page Authority (PA) and also their Root Domains (RD) and backlinks.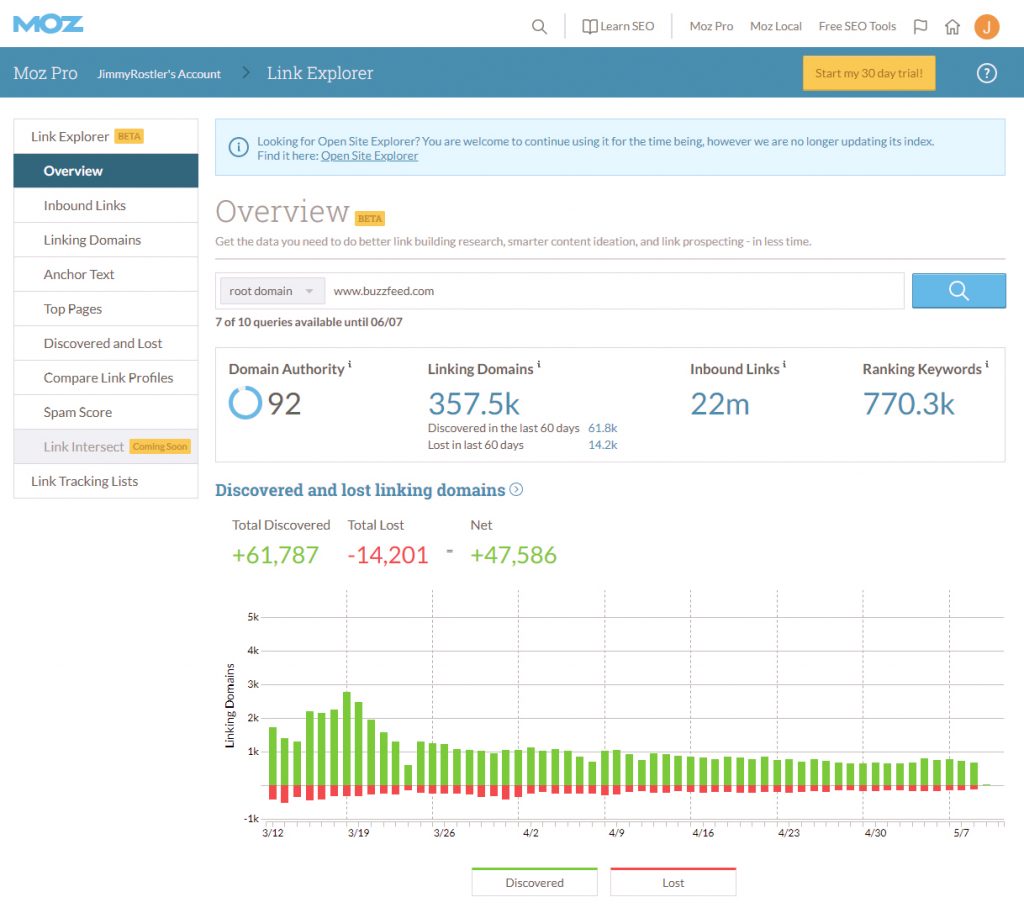 Competitor analysis
Once you have ascertained who your client's main competitors are, inputting their domain into Moz's LE will show you what the most popular pieces of content linking back to their site are. These pieces are ranked using Moz's unique domain and page authority metrics.
Influencer analysis
When preparing a campaign for a client, it's important to be able to measure and gauge an influencer's authority in your industry in order to make sure you are reaching the right people in your industry. Moz's LE can help with this using:
Domain Authority
This is a Moz specific ranking factor that predicts a domain's potential in search engines based on their own inbound links and other ranking factors.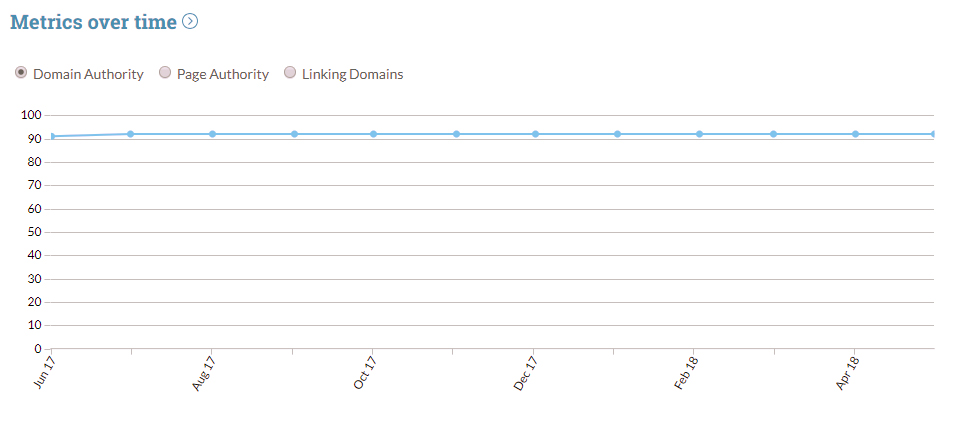 Why is this useful?
Looking at the Domain Authority of a site or a blog gives you the opportunity to compare it against other similar domains meaning that you can find the best people to share your content with.
Page Authority
This will predict how well a specific page will rank in a search engine based on a combination of link metrics.
Spam Score
This looks at 17 flags as decided by Moz to ascertain the chance of the domain being spam, from a large number of external links and anchor text heavy links to thin content and no contact info. This is useful information to collect for potential influencers we are looking to work with.
Why is this useful?
It won't be helpful for your client to have spam sites linking or referring to their site. If a site has a high Spam Score, you can know to avoid partnering with them to share your content.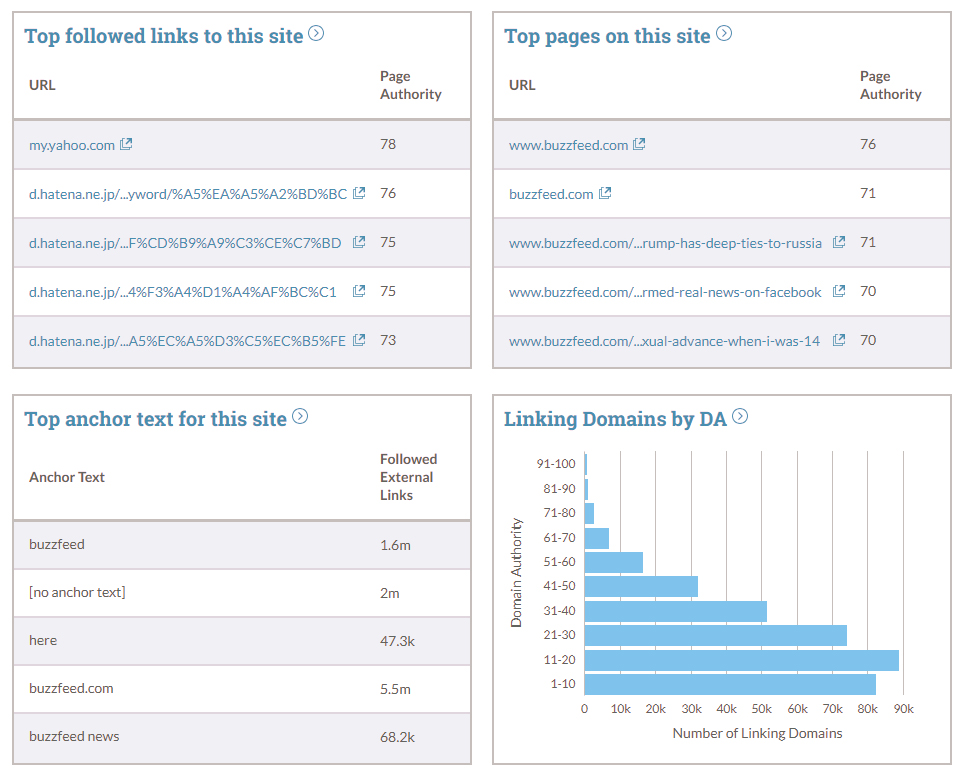 Our thoughts on using it
Sian – "As a blogger as well as working in outreach, I see how important Moz's Explorer is from both sides. Domain authority is the main measure that I see bloggers using to determine how well they're doing and one of the metrics they're constantly striving to improve. Because of this, it's very important to us to keep an eye on it to know how much influence a blogger can have in our campaign – it's not the be all and end all, but it can be a mark of how much work a blogger has put into being influential on a certain topic."
Social media platforms
Social media has revolutionised marketing processes from beginning to end. With platforms such as Facebook and Twitter giving marketers access to real time data, you are now able to expedite information and figures far more quickly than in the past and gain more insights.
Using social media for outreach efforts provides two different outreach possibilities. You can use it to discover the latest trending topics and you can also use it to find out what people are saying about different companies and brands.
Once considered a 'passing fad', the role of social media continues to develop and grow as an integral part of a company's overall online marketing strategy.
Facebook
An online social media and social networking service which people use to stay connected with friends and family, to discover what's going on in the world, and to share and express what matters to them.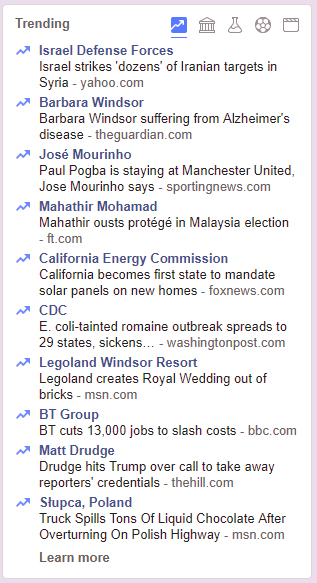 We use Facebook as a starting point to find out trending topics, popular stories and what sort of content has gone 'viral'. The option to analyse the number of likes and shares on different types of posts shows insight on how people react to the different topics. This is helpful when brainstorming and researching, especially if you're looking at utilising social media for your content marketing activities.
Twitter
An online news and social networking service which allows users post and interact with messages – "tweets" that are restricted to 140 characters. To give everyone the power to create and share ideas and information instantly, without barriers.
Twitter is far faster paced than Facebook; it's a great tool for breaking news and quick updates. What can go viral on Facebook may not be something that goes viral on Twitter. We use it to find out what news stories are trending that day, or even that hour, and if we want to target something quickly. It's very good for looking for reactive news stories you can jump on for clients.
You can look at the 'Trends for you' which shows a list of the most popular hashtags at the moment, which is tied to your interest and who you follow as well as paid for trending hashtags.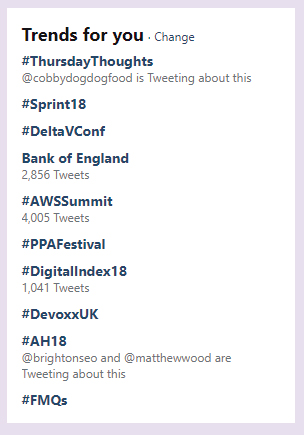 Twitters Moments is also useful to not only catch up on the latest news stories but what are the biggest ones, what Tweets are blowing up and even the odd viral post.

Our thoughts on using this
Hannah – "As with anything to do with social media outreach, engagement on the social channel you are trying to engage with people on is key. If you have a highly engaged audience on your social channels then you can easily get a lot of relevant feedback in a relatively short time period. However, if your audience is not engaged then you would need to look at putting a lot of funding behind it to make sure it is seen and even then, you can't ensure the people who see your content will react to it."
Google Trends
Google Trends is a free tool produced by Google, which allows user to search trending online stories in real time. The trending stories displayed are detected by Google's algorithms, which have been pulled together by collating information taken from the platforms they own: Google search results, trending videos on YouTube and data pulled from Google News.
"Visualizing Google data."
How we use it
The trending stories are ranked based on the relative spike in volume and the absolute volume of search terms, and are displayed to relevant users depending on the user's location. The user can then drill down into the trending terms to see when the topic started becoming popular, where in the world this topic is being discussed, the top search terms people are using to find information on this topic as well as providing information on related topics.
Why would you use it?
As marketers, the challenge is to make sure we are pushing out relevant content in a timely manner. Thorough research of a topic as well as being able to research the interest in and coverage of a similar topic can help guide ideas and aid when pitching to clients. Being able to quickly research a topic and see a range of basic metrics taken from the platform you will be using to promote the content can provide some valuable insights.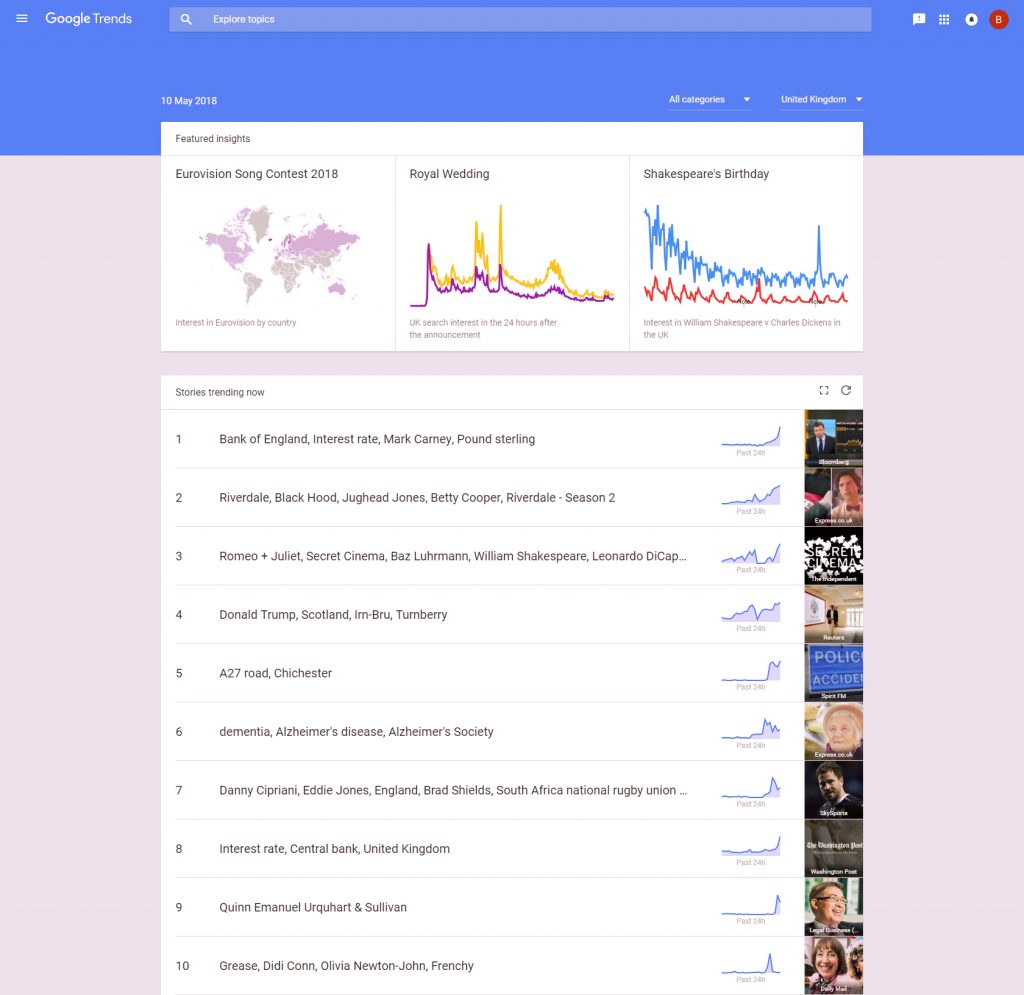 Our thoughts on using it
Steve – "Google Trends has a clean and uncluttered interface and is very intuitive to use, which is something I like when I am using a tool. It is regularly updated and allows the users to drill down and find the information of the trending topics with ease. However, I am unsure as to how useful the search function is as every time I have tried to use it I have received an error message. Initially I thought this could be due to me not being logged into a Google account at the time, but I was still unable to get the search results to work after I had logged in. If these glitches were worked out, it would be a highly useful tool."
Response Source Journalist Enquiries
Response Source has a number of features. For research and discovery we use the journalist enquiries feature. It's a good place to start to understand what sort of content journalists are looking for, for website and magazine features.
How we use it
You can search by keyword which can either be the sector your client is in or relevant topics and will bring up a list live enquiries. You can also see past enquiries if you're looking to get an idea of the type of requests that have come through for a particular topic.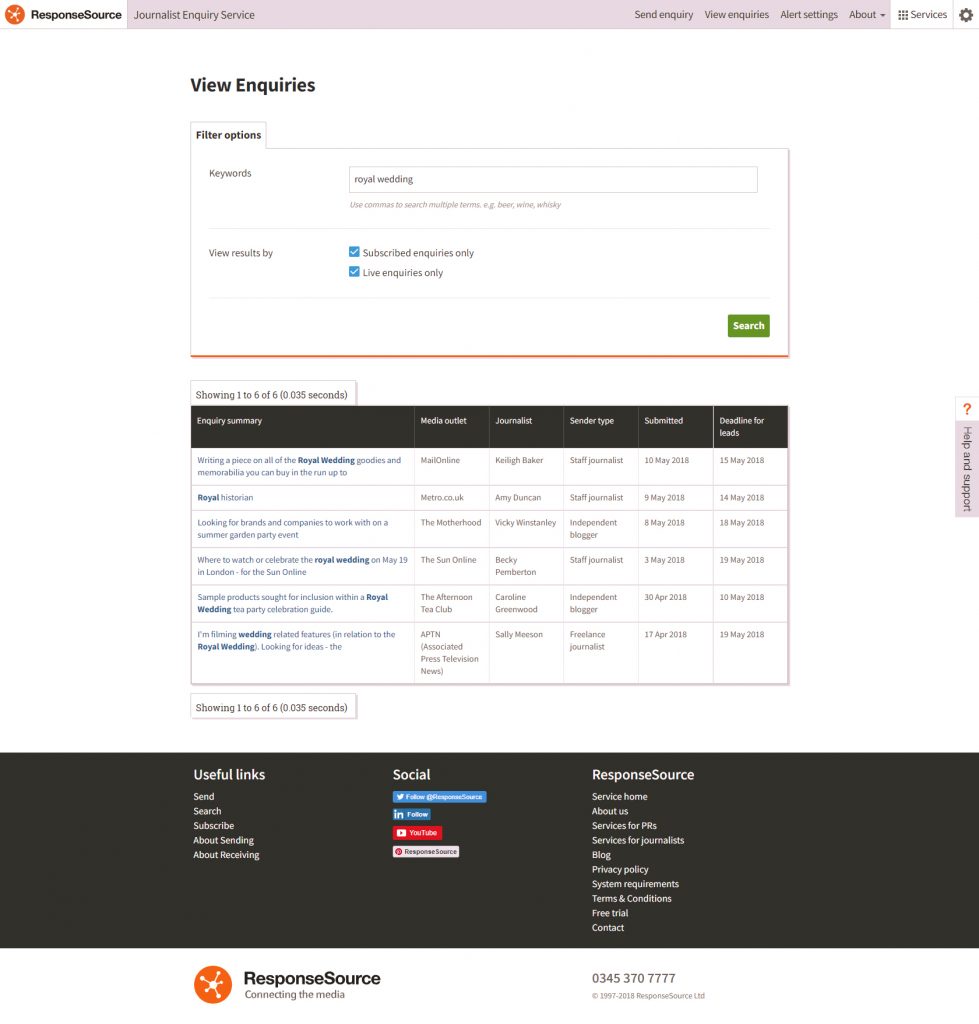 Why you should use it
Keeping up to date is one of the most important things for marketers, so whilst social media can help with trending topics, sometimes it's good to get ahead of the curve and see what might be trending in the future. This comes from the enquiry service as this is where writers and journalists share their requests for upcoming articles and projects. You can see what topics are being written about at the moment and in the future; some places seek content for up to 6 months' time.
Our thoughts on using it
Hannah – "It's good to get ahead of the curve when you start your research. Using Response Source allows you to see what journalists are working on at the moment and in future. This means you can plan your ideas around some of these requests and also get to know what sort of content is wanted by websites." 
These tools support the work we do in Research and Discovery, they provide information and insight used for our brainstorm session. We also find them useful once we have put together ideas for our clients to ensure, the ideas we have are still on topic and also still relevant, sometime after a brainstorm. The next part of our Marketeers Tool Box looks at Content Creation.
If you want to learn more about the Bronco Digital Media Marketing Team check us out here.