If you haven't heard of the John Lewis Christmas ad, where have you been the past 10 years?
The John Lewis Christmas campaign as we know and love it, an emotional narrative combined with an acoustic remake of a classic track with a soft voiced singer – guaranteed to make even the biggest Grinches well up – first launched just over a decade ago. In 2009, creative agency, adam&eveDBB, completely shook the Christmas market with their first Christmas campaign for John Lewis by making it different: rather than focusing on a product, they told a story.
Ever since, the launch of the John Lewis ad each festive season has become synonymous with the start of Christmas.
But how do they do this successfully year in, year out? Here at Bronco, we're a digital agency that loves a bit of a campaign integration across the board, especially if that weighs heavily on the side of digital alongside traditional PR such as TV ads. John Lewis do a pretty fab job of integrating social media into their Christmas campaigns, with hashtags and social accounts set up for the characters featured in the campaigns. (Although we do have a few suggestions to make it even better – hit us up, JL, if you're interested ;D)
We also love to analyse these campaigns to see how we can replicate their results for our clients. Today we're looking in depth at the John Lewis Christmas ad formula as well as seeing if our research can help us predict the John Lewis' 2020 Christmas ad.
Click image to view full size

The John Lewis Christmas Ad Formula
After analysing 10 years of data from the John Lewis Christmas campaigns, we've come up with a formula:
Emotional Narrative
We've been strongly recommending driving an emotional narrative behind as many campaigns as possible for our clients in recent years, whether that's shock, nostalgia, or even fear. Clearly you don't want negative emotions surrounding your brand at Christmas – you want warm, cosy, fuzzy on the inside feels. Even if that does bring a tear to the eye…
We broke down 10 years of John Lewis Christmas ads and discovered that the top feeling behind the stories driving each ad is nostalgia (35%), followed by friendship (25%) and humour (20%), then finally romance and excitement at 10% each.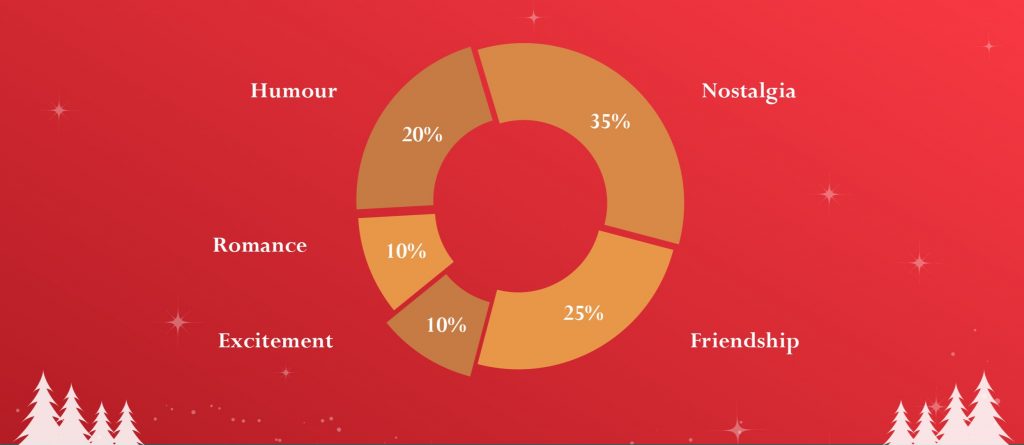 Getting a potential customer to connect with a brand on an emotional level is tricky – poor attempts at storytelling will feel shallow. Using a TV ad for this type of emotive storytelling is very clever really: when people are watching TV, they're already in the right mindset to be susceptible to a story, and Christmas is the perfect time of year to get people feeling nostalgic.
Lovable Characters
A story wouldn't be a story without its characters, and in the John Lewis Christmas campaigns, this is done excellently. Each year has a new, but always lovable, character, whether that's an excitable animal, a cute child, a representation of Christmas as a snowman or penguin, or even a reimagined version of a classic scary character such as a monster or dragon. The one thing these characters all have in common is Christmas spirit – a desire to give the perfect gift, to bring people together, to experience the pure joy of the festive season.
Classic Song Made New
And the one thing a John Lewis ad wouldn't be a John Lewis ad without – a classic song made new:
A Vintage Original Song
Our research shows that the track isn't always a particularly well-known song, but they're usually "vintage":
3 B-side records: 3 out of the 10 songs used in John Lewis Christmas ads were from B-sides.
1969: The year the oldest song used in a John Lewis Christmas ad was originally released (Golden Slumbers by The Beatles).
34 years: the average age of a song when it's used in a John Lewis Christmas ad.
Recreated by a Soft Indie Singer
The new, usually acoustic, version in the Christmas ad is usually sung by a softly voiced singer who is often relatively unknown and slightly alternative.
Only 2 artists who sung the new versions of John Lewis Christmas ad songs were in the charts that year – Ellie Goulding (2010) and Bastille (2019).
5 artists who sang in John Lewis Christmas ad songs had never previously featured in the UK charts.
A Common Theme
Each John Lewis ad finishes with a tagline that sums up the entire campaign. We took every tagline and figured out which words appear the most frequently, these were (in order):
Give
Christmas
For
Someone
Gifts
Care
More
Love
Show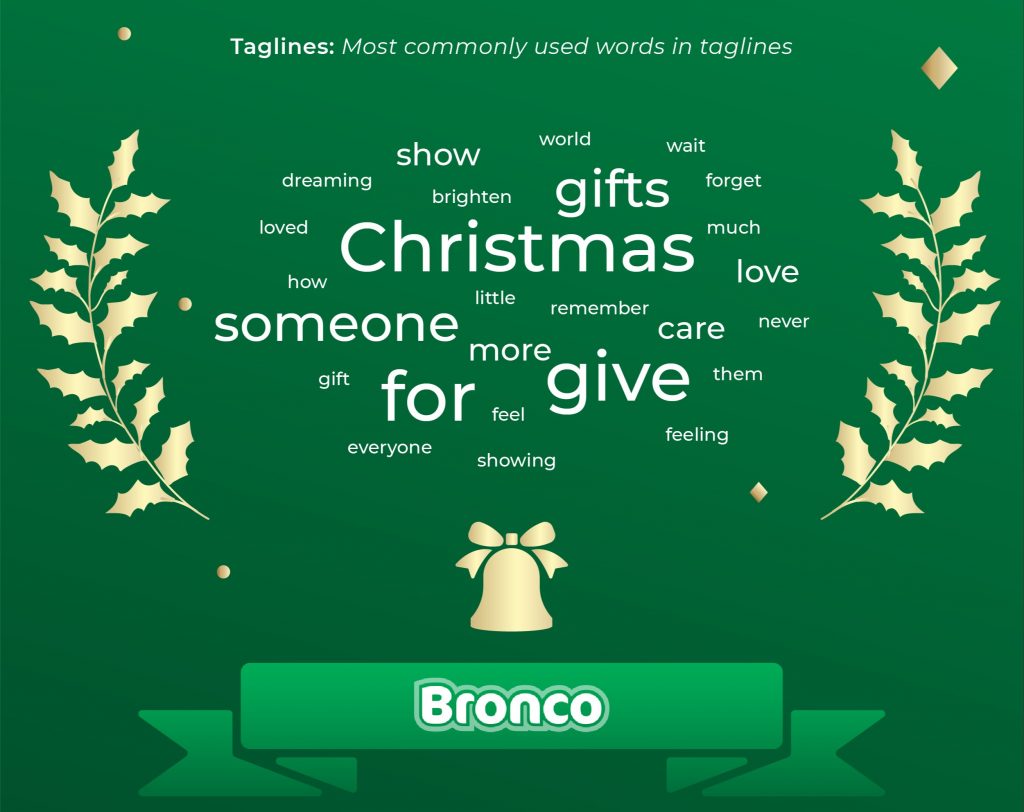 John Lewis 2020 Christmas Ad Predictions
Time for the bit we've all been waiting for – our predictions for the John Lewis 2020 Christmas ad!
Theme
2020 has been an…interesting year, to say the least. One thing that we all agree on is that John Lewis will have to be sensitive with their theme this year – it's possible that parts of the country, if not the whole country, will be under some form of lockdown restriction. Even if not, showing big gatherings will hit all a bit too close to home for those who have been unable to see friends or family members this year.
The Summer We Missed: Our top prediction for 2020's ad theme is the summer that we missed, since we couldn't fully enjoy the one we had.
The Long Journey: Our alternative theme prediction goes entirely the other direction: combining that feeling of togetherness while apart with our national sense of pride this year – think Tom Moore, clapping on our doorsteps for the NHS and partying in the streets for VE Day. We believe that the focus here would be on what a long slog 2020 has been, but there are always things to look forward to and good times ahead.
Character(s)
We took a look at what themes and trends John Lewis is focusing on for their Christmas sales campaigns this year and noticed tropical creatures are heavily featuring: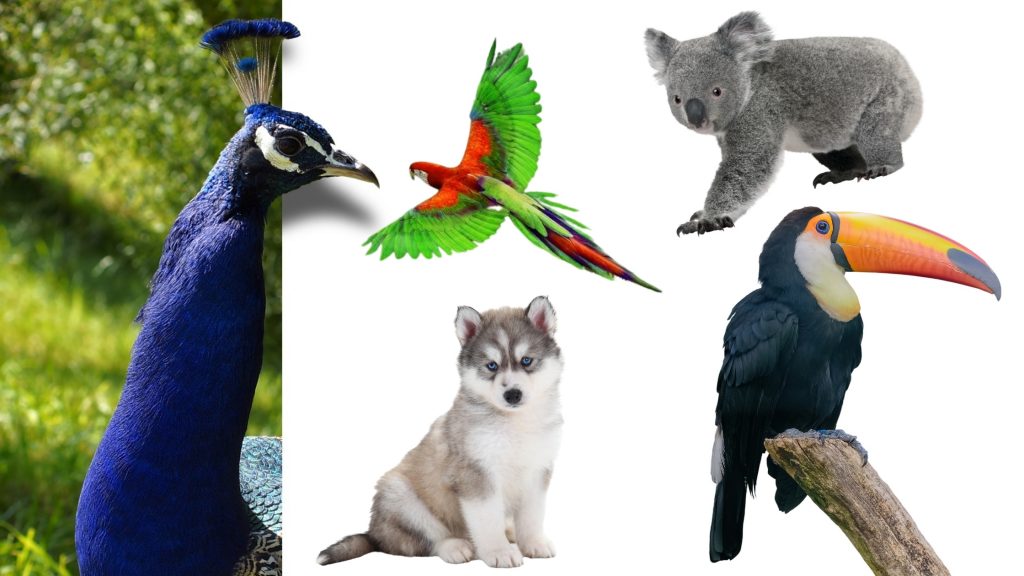 Toucan: bright and colourful, a toucan (or other tropical birds) would bring a touch of fun to this year's campaign – something we all need! Check out these "coming soon" Toucan Christmas ornaments here and here.
Koala: cute, cuddly, but also strong and fierce, a koala would fit perfectly with John Lewis' cosy Christmas feel, but with the strong mindset that we've all needed to battle 2020. We also think it would make a fab cuddly toy which we know John Lewis is always keen on! Check out these "coming soon" Koala Christmas ornaments here and here.
Peacock: John Lewis' Art Nouvea theme this Christmas is packed full of peacock ornaments and colours. This would make a gorgeous colour theme for a Christmas ad too.
Husky: our last prediction is simply because we think huskies have that perfect festive feel but haven't been used in a John Lewis ad yet!
Music
Many people have suggested that Captain Sir Tom Moore's track of the year, You'll Never Walk Alone, will feature in this year's ad. This is a strong contender with the meaning it has gathered in 2020, but it's likely that it will be too overdone for John Lewis.
Original Song
Our predictions for the song that will be used in this year's campaign are:
Dancing in the Streets by Martha and the Vandellas – originally released in 1964, this would be the oldest song yet, but it's a classic. We can see this working perfectly for celebrating national pride.
Club Tropicana by Wham! – fits the timeline being released in 1983 and has that summery celebration feel.
Lean on Me by Bill Withers – originally released in 1972, and fits with the feel of 2020 in general.
2020's Artist
Our predictions for the artist who will sing this year's version of the song:
Grace Carter: a relatively unknown British acoustic voice but has supported bigger artists like Dua Lipa.
Robyn: an alternative Swedish artist (like Aurora from John Lewis' 2015 Man on the Moon campaign).
Jorja Smith: a popular British artist who hasn't yet had a UK number 1.
Storyline
Here are our predictions for this year's storylines:

The Summer We Missed
We're imagining a husky who watches as every year his owners go abroad at Christmas and return with souvenirs: postcards and snaps of palm trees and blue oceans, koala and tropical bird trinkets. He dreams of experiencing this himself. This Christmas though, the suitcases aren't packed, the summer clothes remain in storage, the Club Tropicana music intensifies, and the family stays at home to celebrate with the husky realising that it's not where you are, it's who you're with.
The Long Journey
Thinking about our character predictions and previous years' taglines, we're imagining a baby husky learning to pull a sleigh, practising every single day, with a potential tagline of "Going the extra mile for someone you love".